If you are going to visit the Old Townof Dubrovnik with your vehicle and you want to avoid the traffic around the city, probably the best way is to park it in Public Garage.
Newly built Public Garage is located at Ilijina Glavica (Zagrebačka ulica bb).
The garage has 711 parking places.
The easiest way to get to the Old Town from garage is to take stairs through the Baltazar Bogisic park just below the garage.
Underground parking garage located just 5–7-minutes' walking distance to the Old Town and just 100 met from the main entrance in Dubrovnik directions from Split or from airport
Latitude – Longitude: 42.645262,18.103584

Here is a google map that shows the location of the new garage and PRICES in kunas from 2018

01.11-31.03

01.04-30.04

01.05-31.05

01.10-31.10

01.06-30.09

Hour ticket


15.00
20.00
30.00
40.00

Daily Ticket

180.00
240.00
360.00
480.00

Weekly ticket

900.00
1200.00
1800.00
2400.00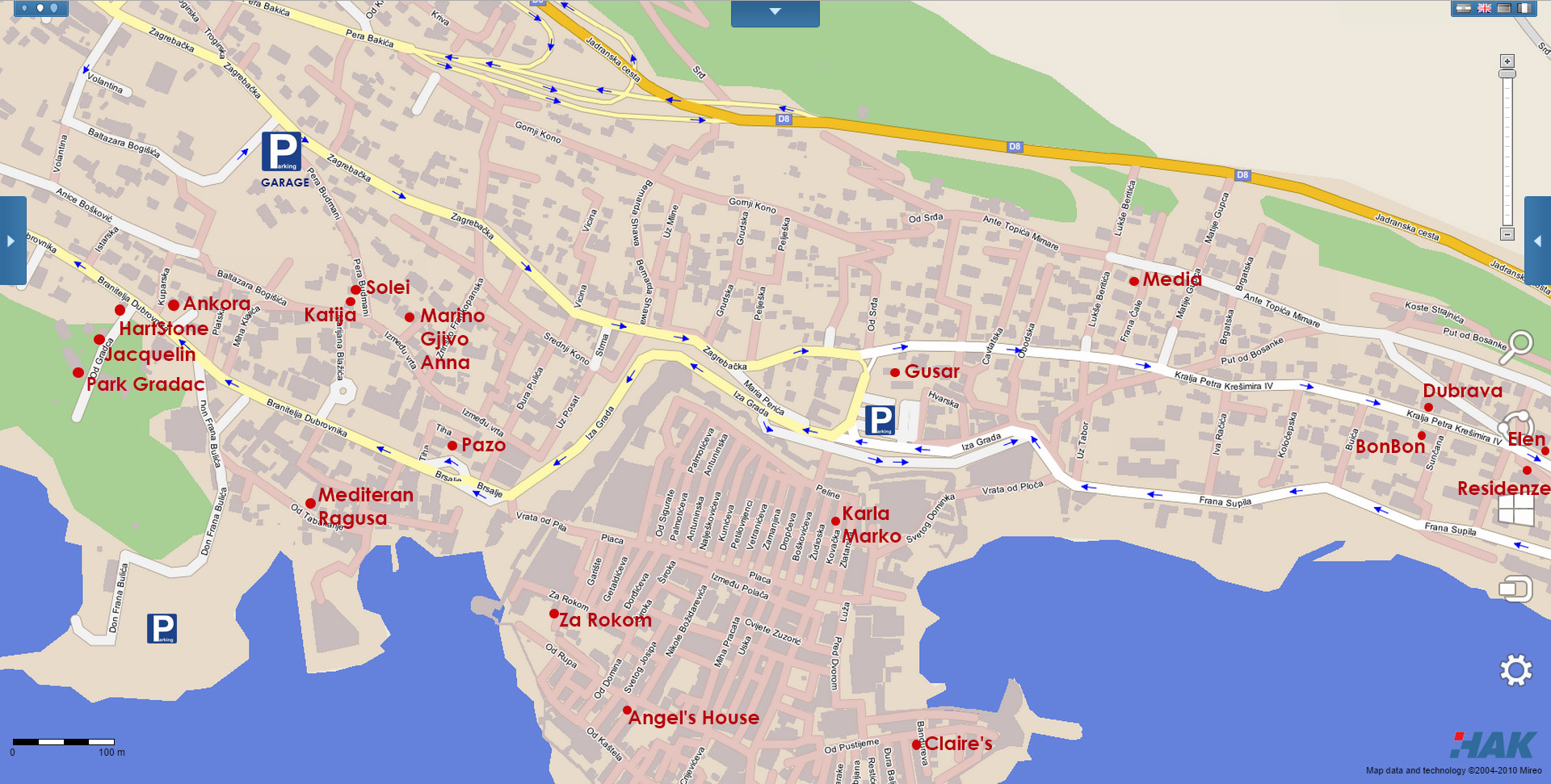 New garage is located few min by walk from apartment Ankora, Park Gradac, Mediteran, Ragusa, Jacqueline, Residenze ,Solei, BonBon, Gusar and Old Town apartments,
Dubrava have a private parking in front of house. For Medi apartment free parking is in front of house at the street.
For Bay apartmentsparking is in front of house at the street. For apartment None ( this apartment is not in central zone ) you can find parkig near on the street ZONE 3.
Maar, Dolina House, Dvori apartment, Villa Ana, Villa Marija, Melanie, Wild Orange, Zamagna, IDA apartmnts and Kod Nika, are with own private parking for all our guest.
We are offering also van transfer service 24 hr in Dubrovnik.
PRICES OUTSIDE THE GARAGE - link

The following fees are paid for parking in public parking spots:

• in zone 0 every day from 0:00 to 24:00;
• in zone 1 (business zone) every day from 06:00 to 22:00;
• in zone 2 only for perimit Holders
• in zone 3 every day from 06:00 to 22:00;
• in zone 4 every day from 00:00 to 24:00;

Price of parking per hour:
Zone 1 May to 31 October 1 November to 30 April
Zone 0 40,00 kn 20,00 kn
Zone 1 10,00 kn* 5,00 kn**
Zone 2 40,00 kn 10,00 kn
Zone 3 10,00 kn 5,00 kn

* from 6:00 to 16:00 hours on weekdays and Saturdays from 6:00 to 12:00, with a maximum 120 minute time limit for parking.
* from 16:00 to 22:00 hours on weekdays, Saturdays from 12:00 to 22:00 and Sundays 6:00 to 22:00 hours with no time limit.
** from 6:00 to 16:00 hours on weekdays and Saturdays from 6:00 to 12:00, with a maximum 120 minute time limit for parking.
** from 16:00 to 22:00 hours on weekdays, Saturdays from 12:00 to 22:00 and Sundays 6:00 to 22:00 hours with no time limit.
Users of the preferential ticket for the second and third zone are not charged for the first hour of parking in the first zone (business zone). They will be charged each additional hour at the prices of daily tickets from paragraph 1 of this article.

Price of a multi-hour ticket (order):
Zone 1 May to 31 October 1 November to 30 April
Zone 0 800,00 kn 400,00 kn
Zone 1 130,00 kn 65,00 kn
Zone 2 SPECIAL PERMIT
Zone 3 130,00 kn 65,00 kn
Zone 4 600,00 kn 200,00 kn
Daily ticket price:
Zone 1 May to 31 October 1 November to 30 April
Zone 0 800,00 kn 400,00 kn
Zone 1 x x
Zone 2 SPECIAL PERMIT
Zone 3 130,00 kn 65,00 kn

Weekly ticket price:
Zone 1 May to 31 October 1 November to 30 April
Zone 2 SPECIAL PERMIT
Zone 3 400,00 kn 150,00 kn